Nothing better then a warm cup on a crisp, "chili" autumn night
Adding extra-lean turkey as your source of protein as opposed to
ground beef is a heart healthier choice; low-sodium vegetable broth is
another great alternative to eat cleaner, by reducing sodium intake!
READ MORE & Enjoy!
---
What you need: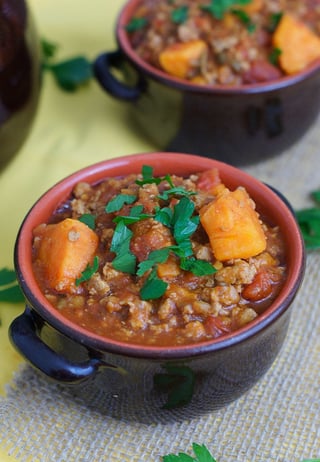 1 large sweet potato
1lb extra lean ground turkey
1 red bell pepper
1 onion
1/2 cup celery
1/2 cup carrots
1 can diced tomatoes
1 can tomato sauce
2 cups low sodium vegetable broth
1 can red kidney beans
Spices - chili powder, curry, coriander, cumin, salt, pepper, paprika,
onion/garlic powder
1.) Sautée the onions, garlic and ground turkey in a skillet
2.) Chop up all the vegetables and toss into the crockpot.
3.) Add tomato sauce, vegetable broth, and turkey mixture to the slow cooker.
4.) Cook on high for 4 hours or low for 6 hours.
5.) Add the red kidney beans with 1 hour left to cook.
6.) PRESTO!